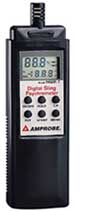 Environmental Inspection & Testing
At HealthyAir, our environmental inspection services are aimed at helping customers identify and understand what pollutants are currently in their home. We test for specific types of pollutants, such as asbestos and mold spores, and measure their particulate size, and then design the appropriate solution. Since every home is unique, each also requires an equally distinctive solution for providing optimum air quality. To find this answer, we begin with an Indoor Air Survey. This first step in our environmental inspection services provides the information you need to make an educated buying decision. View our service area information here.
We utilize a variety of testing equipment depending on your situation, including ParticleScan®, Amprobe, Fluke, and TIF. Once complete, our indoor air survey will tell you:
Particulate count at .3 and 5 microns
Particulate concentration by size
Relative humidity throughout the home and unconditioned areas
Location and level of visible mold contamination
Leaky duct work contributing to the indoor air pollution
Detection of Carbon Monoxide
Mold Inspections and Testing
HealthyAir consultants are true mold experts with extensive education. We have inspected thousands of homes and have years of experience in mold testing and remediation. We take household mold very seriously and make every effort to educate customers on how mold can affect their health. We give practical, reasonable advice on how to address a mold problem. We treat our customers with respect. Instead of using scare tactics or tearing a home apart, we simply treat the mold thoroughly. We encourage you to learn more about mold objectives and testing methods. HealthyAir offers extensive and thorough environmental inspection services. If you are unsure if our services can benefit you, or would like to talk about your home environment, contact us today. Our goal is to help our customers breath easier.
ParticleScan®
The ParticleScan Pro was specifically developed for taking measurements in normal indoor environments. The unit draws 0.01 asp (cubic feet per minute) of air through the device, which is ten times slower than other conventional particle counters. Then, using laser technology, the ParticleScan measures the particle concentrations in the ambient air. The ParticleScan Pro doesn't only count particles in a fixed measuring range. It also features advanced size discrimination technology whereby each particle is individually counted and sized. The display panel allows you to view particle counts either in cumulative mode or differential mode. So why do particle sizes matter? It matters because your body is designed to filter out particulates greater than 10 microns through normal breathing. You may cough and sneeze because these allergens are irritating your eyes, nose and throat, but your body is working to rid itself of these foreign particles. However, particulates smaller than 10 microns, especially those under 5 microns, are able to get past your natural defenses and can do damage to your heart and lungs. To create the optimum breathing environment, it is important to start by identifying the types of particulates are in your air.
The ParticleScan Pro can identify single particles, making it far more sensitive than photometers, which identify only particle clouds. The ParticleScan updates the particulate reading every six seconds. This quick rate of data will allow you to locate and isolate sources of particulate matter.
Amprobe Meter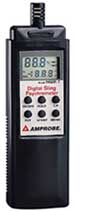 The Amprobe Meter is designed to measure the ambient air temperature and humidity level.
This device will accurately measure within ± 1° temperatures from -4° to 122° F.
The relative humidity is measured from 0% to 100%.
When testing indoor air quality, the temperature and humidity are critical when determining the presences of molds and dust mites. Molds and dust mites are not air borne and cannot be abated through a filtration system. The only known method to rid your home of these allergens is through humidity control. Mold spores, which can be airborne, will be detected with the use of the ParticleScan Meter.
Fluke
The Fluke-220 Carbon Monoxide meter quickly and accurately measures the CO (carbon monoxide) in your home.
Using the newest generation of electrochemical sensors, the CO-220 responds very quickly to ambient changes in carbon monoxide concentration within the home.
Carbon monoxide is produced when fuel is not burned efficiently. At low concentrations, some of the effects of CO exposure are fatigue in healthy people and chest pain in people with heart disease. At higher concentrations, CO exposure can lead to impaired vision and coordination; headaches; dizziness; confusion; nausea. CO exposure can cause flu-like symptoms that clear up after leaving home. CO is fatal at very high concentrations.
TIF-8800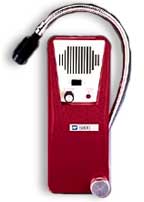 The TIF-8800 uncovers gas leaks in the range of 50-1,000 ppm in gas lines and appliances.
This unit also detects other VOCs such as hydrocarbons, halogenated hydrocarbons, alcohol's ethers, ketones and other compounds and chemicals. Exposure to VOCs can cause eye, nose, and throat irritation; headaches, loss of coordination, nausea; damage to liver, kidney, and central nervous system. Some organics can cause cancer in animals; some are suspected or known to cause cancer in humans.
Whether your home is less than 1 year old or over 100 years old, you most likely have an indoor air pollution concentration higher than that outdoors. The more time spent in a polluted indoor environment increases the chances of developing respiratory problems. The very young, elderly, those suffering from allergies or asthma, and the immunocompromised are at greater risk.
For an Air Purification system designed to meet your home's unique needs, contact HealthyAir, the right choice.
More Articles You Might Like