IS YOUR HOME MAKING YOU SICK?
Download A Free Guide to Indoor Air Quality & Your Health
Healthy Air USA's founder and owner, Stephen Andrews, is proud to offer a free copy of his book, Detox The Air In Your Home: Eliminating Mold and Toxins from Your Indoor Environment. This book is intended to give homeowners a better understanding of the scientific principles that lead to unhealthy indoor environments, and to provide easy-to-follow methods for creating a healthier home.
Written by environmental inspector and mold expert, Stephen Andrews and mold survivor and health coach, Beth Jarrett. Stephen brings his expertise from four decades of building science together with Beth's personal health battle with mold exposure to provide an educational guide on keeping indoor air quality in the home healthy.
The Different Types of Indoor Air Quality and Pollutants

The Factors that Lead to Buildings Becoming Sick

How Sick Buildings Can Impact Your Health

The HealthyAir Plan to Treating Sick Buildings

How to Find a Road to Recovery from Indoor Air Quality Ailments
- frequently asked questions -


ABOUT THE BOOK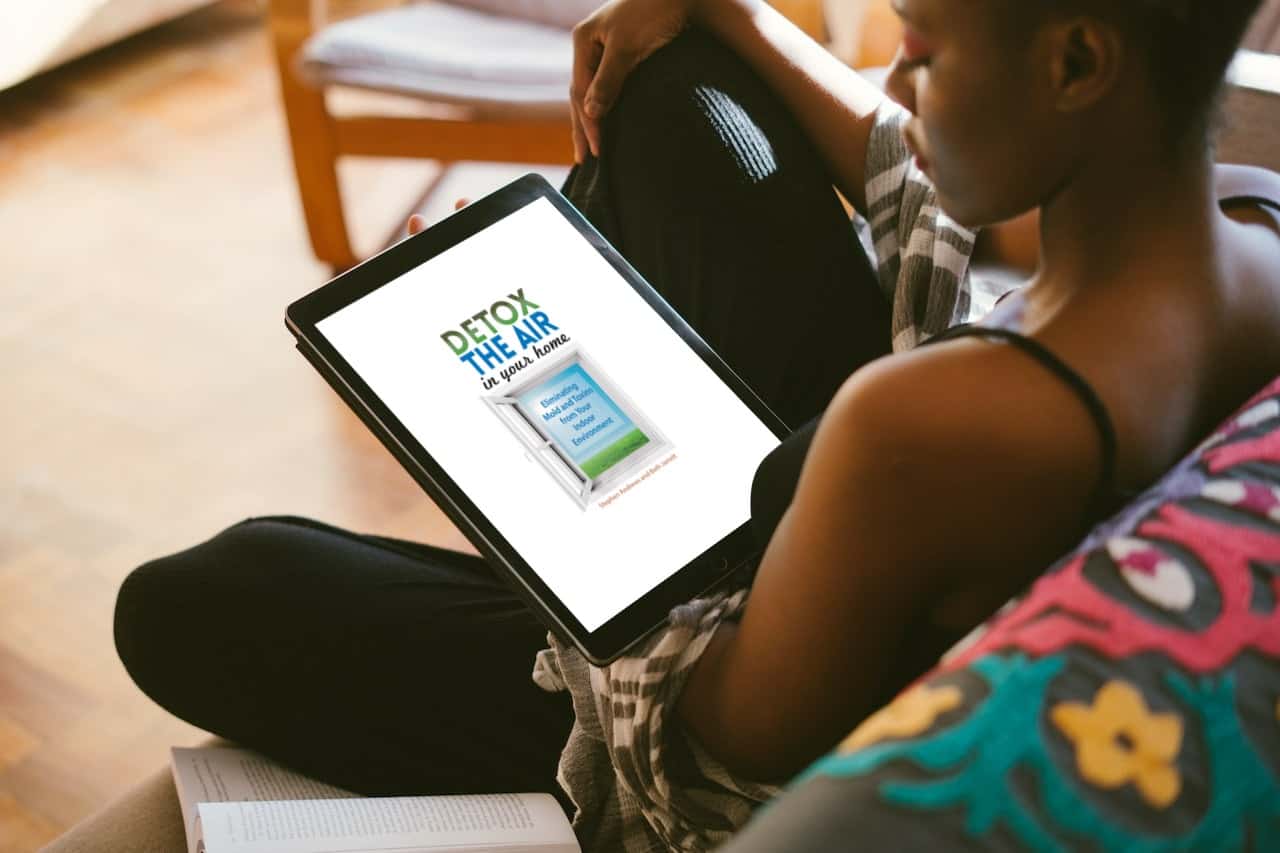 This book is valuable to anyone who wants to create a healthier indoor environment.
If you are suffering from medical symptoms with an unknown cause, this book is a valuable resource to investigate if indoor air quality is impacting your health.  
If you are building a new home, buying a new home or refurbishing a home, you will find Healthy Air's recommendations for best practices to prevent mold and toxins indoors. 
A NOTE FROM THE AUTHOR, STEPHEN ANDREWS
For the past fourteen years, I have immersed myself in seeking to understand why buildings become sick, how those buildings can make people sick and finding solutions to fix them. As an environmental investigator, I help find the hidden sources of toxins in the home and help people eliminate them to improve their health and their resistance to disease.
During home inspection visits, I hear different variations on the same story: the homeowner has become chronically ill and has not been able to find a source of their ailment despite spending a great deal of time and money searching for answers. Most people don't realize that the symptoms they are suffering from may be caused by poor indoor air quality in their home.
I wrote this book to raise awareness of the many health concerns associated with sick building syndrome and to provide solutions for making and keeping homes healthy.
I am not a doctor, and I don't pretend to give medical advice. I also know every question and every situation cannot be addressed in the pages that follow, but it is my hope that this book will help those who read it, and that it will provide the tools and information necessary to begin the journey to restored health.
- meet the writers -


about the authors
Stephen Andrews (author) is an environmental inspector, mold expert, heating and air-conditioning consultant, master plumber, and entrepreneur with four decades of experience building successful start-up enterprises. Stephen founded several businesses (Andrews Environmental, LLC and R. S. Andrews Services, Inc., HealthyAir, LLC) and co-founded one other (Air and Energy Products). Mr. Andrews is a licensed professional in indoor air-conditioning, plumbing, mold assessment, testing, and remediation, and radon testing. He holds multiple licenses and certifications, including a certification by the National Institute of Home Building Environmental as a Clean Air Specialist in Georgia.
Beth Jarrett (co-author and editor) is a writer, graphic designer, mold survivor and health coach. She developed severe symptoms from mold exposure in 2004. When Stephen first met Beth, her mold symptoms—and the levels of mold in her home—were extreme. Stephen inspected, tested and helped her remediate her home. This book is a joint effort aimed at helping people better understand the nature of building science. Growing up as the daughter of an architect and experiencing the impact of an environmental illness, Ms. Jarrett brings a unique perspective to this book. Many of the situations referenced in this book occurred in her own home. Beth is happy to have her health back once again.
 - WE'RE HERE TO HELP -


CONTACT HEALTHY AIR USA FOR HELP WITH YOUR HOME'S INDOOR AIR QUALITY
We'd love to help you breathe a little easier in your home.
Call Healthy Air USA today or complete the form and a Healthy Air USA representative will be in touch to discuss improving the quality of your indoor air.
CONTACT HEALTHY AIR USA
Proudly serving the greater metro Atlanta area
Call Us at 770-205-1710
Monday - Friday: 8AM - 5PM
There is no pressure. We would love to chat with you and are happy to answer any questions you have!
COMPLETE THE FORM TO CONTACT HEALTHY AIR USA