Air Filtration/Purification
Airborne mitigation systems can be a combination of Air Filtration, Cold Plasma Ion Generators, Air Duct Sealing, fresh air ventilation and fungal cleaning.  In a real word setting where pathogens are a major concern, a holistic approach to clean air should be of greater concern than the filter rating within a filtration device.  Many factors contribute to the efficiency of an air purifier.  For instance, consider how many times the air in a room passes through the filter in one hour:  a small filtration device moving only 100 cfm of air (cubic feet of air per minute) is practically useless for a large room or entire house.  Secondly, does the filtration device destroy pathogens such as mold spores, viruses, and bacteria?  One should focus on desired results – not ratings of an air-quality component.
Determining the right "system" to deliver and maintain excellent indoor air quality requires someone with a broad range of experience in indoor air quality.  An on-site assessment is necessary to ensure the right things are being recommended for long-term health of the home.  Few companies like Healthy Air USA have the skill, experience, knowledge and licenses required to assess and identify all the issues causing indoor air quality problems and provide services and systems to correct problems and maintain long-term healthy indoor living environments.   Call Healthy Air USA at 770-205-1710 or contact us at info@HealthyAirUSA.com.
Ultravation® ProgressiveMedia™ Air Cleaner - Straight Through Design
9 times the filter surface area of a typical flat panel furnace filter (20x25). Rugged cabinet design with powder coat finish houses Ultravation's pleated MERV 11 Progressive Media Air Filtration with UltraStrand™ shaped media technology. Very high holding capacity removes particulates as small as .3 microns. 40% better initial efficiency than MERV 8 yet matches MERV 8 pressure drop characteristics. (MERV 8 filters available when specified.) 
90-006 Media Air Cleaner 16x25x5 powder coated white finish.

 

90-007 Media Air Cleaner 20x25x5 powder coated white finish.

 

90-015 Media Air Cleaner 16x25x5 powder coated white finish.

 

90-016 Media Air Cleaner 20x25x5 powder coated white finish.

 
HEALTHY AIR USA BEST Whole House Air Filtration:
 

Daikin Premium Air Cleaner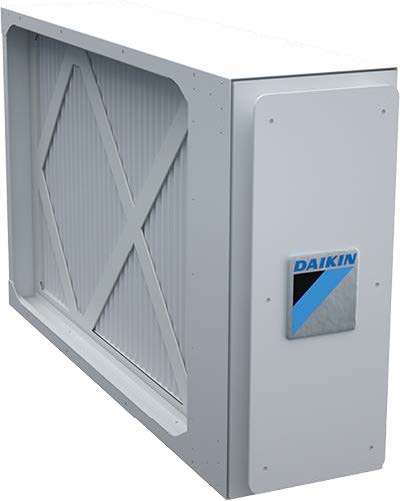 Filtration - Air Cleaner 
The Daikin Premium Air Cleaner is the filtration your home needs and your family deserve. Go beyond just merely heating and cooling the air in your home, to providing cleaner indoor air to your family. Intuitively designed with outer dimensions that match original equipment furnace and air handler cabinets for quick installation. Features 
The new Daikin Premium Air Cleaner is a MERV 15 media filter that removes more than 85% of particles down to 0.3 microns† 
Pleated media filter removes over 98% of Aspergillus fumigatus, Aspergillus versicolor, and Stachybotrys chartarum from the airstream, three common mold spores that are found in homes†

 

Pleated media filter removes over 99% of Ragweed, over 72% of Cat Dander, and over 73% of Dust Mites from the airstream, three common allergens that are found in homes†

 

Extra deep, 5 ¼" pleated filter constructed of cellulose-free, hydrophobic polyolefin fibers

 

Designed for multi-position horizontal or vertical installations

 

Magnetic door design ensures tool-less, easy access to filter components for quick and easy filter change

 

Filter design features a structured density gradient for sustained efficiency over the life of the filter

 

Filter has a tight cabinet fit ensuring negligible air bypass

 

Filter frame designed with dual pull tabs for easy removal

 

Fully gasketed door for proper air seal

 

Heavy duty, 20-gauge, post-forming painted, corrosion-resistant door

 

Insulated cabinet to reduce risk of condensation

 

All cabinet mounting holes are slotted and designed to lineup with original equipment flanges for time-saving installation

 

Filter should be changed once or twice a year based on conditions within the home

 
Abatement Technologies' MERV 20 Central HEPA filtration systems
Air filtration systems are customized to optimize air flow and deliver the cleanest air possible. Call Healthy Air USA at 770-205-1710 or contact us at info@HealthyAirUSA.com. We can assist you and help prevent costly mistakes in choosing the best air filtration system for your home. Healthy Air USA is an industry leader in whole house air filtration systems.