- WE DON'T JUST REMOVE MOLD -


WE SOLVE YOUR MOLD PROBLEMS
If you have found visible mold in your home, your first instinct may be to solve the problem by cleaning the mold with household cleaners. However, removing the visible mold is only one step in the process of solving your home's mold problem.
Mold can be an invisible intruder, growing behind and around what you can see. If you only clean the visible mold and do not identify and remedy the issues that are feeding the mold growth, the mold will only come back and become worse. This is why you need to hire a professional mold remediation company to solve your mold problems.
What is Mold Remediation?
Mold remediation is the process of removing existing mold AND correcting the environmental conditions that are allowing mold to produce in your home. Mold remediation should be carried out by professionals because if not properly contained, mold spores will spread through the air and continue to infect your home.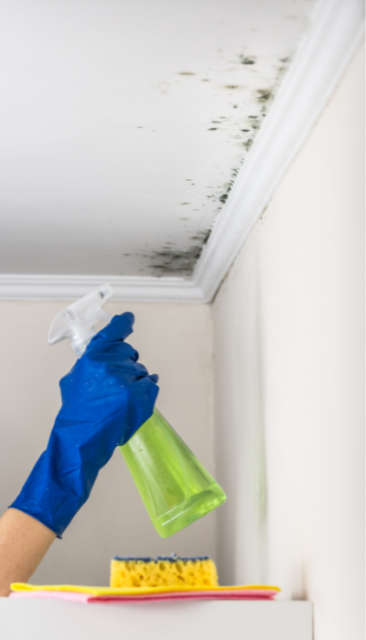 - WHAT DOES MOLD LOOK LIKE -


SIGNS OF MOLD IN YOUR HOUSE
Mold can grow virtually anywhere if the conditions are right. And while you can expect more mold in humid environments, serious issues can arise if mold problems are not taken care of promptly and professionally. Not all mold can be seen with the naked eye, but there are signs that you can look for in your home to identify if you have a mold problem. 
Musty Odor

If you notice a persistent odor in your home after regular cleaning, especially if the odor becomes stronger in certain areas of the home, you may have a mold issue. 

Warped, Peeling or Blistering Walls

Without visible spores it can be difficult to determine if mold is present in or behind your walls. Don't ignore changes in your wall texture, paint and discoloration as these are signs that mold may be present. 

Visible Mold

Mold can present itself in many different ways. The most common color is dark green, brown, or black, but depending on the type of mold and the type of surface it inhabits, it can also be orange or even white.

Lumpy Insulation

Roof leaks often lead to mold growth inside your attic and insulation. Just like walls, you may not see visible mold in your insulation, so look for lumps and unevenness as signs. 

Increased Asthma, Allergy or Cold Symptoms

Some people with pre-existing conditions, compromised immune systems or allergies may experience physical symptoms from mold exposure. It is important to consult with a qualified medical clinician and professional mold remediation company to address your symptoms. 
EXPERIENCE THE DIFFERENCE OF HEALTHY AIR
At Healthy Air USA, we only use high-quality testing equipment and gear for the most accurate results. Healthy Air is licensed in mold remediation by the State of Georgia and EPA certified so you can feel confident that our team is trustworthy and reliable. Unlike other mold remediation companies, our team includes environmental engineers who provide a unique perspective and expertise in identifying mold-causing issues and using building science solutions to resolve your home's mold issues.
We are proud to be a recommended service provider of many medical professionals throughout the Atlanta community. When their patients are suffering from the effects of mold, they know they can count on Healthy Air to help. 
In a world where you have plenty of choices, you want one solution that can offer a wide variety of services, specific to your needs. We take a whole-home approach to mold remediation including air quality testing, humidity control, crawlspace encapsulation and air purification. 
 - HOW WE GET THINGS DONE -


WHAT TO EXPECT DURING THE MOLD REMEDIATION PROCESS
Test & Identify

Visible mold in your home is just the beginning. Our team will test the air and inspect the surfaces of your home to measure the levels of mold present and determine if it is high enough to require remediation. Most importantly, we will identify the moisture source that has caused the mold outbreak. 

Isolate & Remove

Mold spreads by releasing invisible spores into the air, so the most important step of remediation is to isolate the enviornment with high strength vapor barriers and negative air pressure. Once the infected area is sealed, we use industrial strength cleaners to kill visible mold and fix structural issues that are allowing the mold to grow. 

Test & Confirm

Our job is not done until there are no visible signs of mold, the moisture problem has been fixed and mold test results are within normal levels. If test results do not meet standard levels, we will work until they do. 
- WE'VE GOT ANSWERS -
FREQUENTLY ASKED QUESTIONS
 - WE'RE HERE TO HELP -


SCHEDULE MOLD TESTING FOR YOUR HOME
We'd love to help you breathe a little easier in your home.
Call Healthy Air USA today or complete the form and a Healthy Air USA representative will be in touch to discuss improving the quality of your indoor air.
CONTACT HEALTHY AIR USA
Proudly serving the greater metro Atlanta area
Call Us at 770-205-1710
Monday - Friday: 8AM to 5PM
Not quite sure yet?
There is no pressure. We would love to chat with you and are happy to answer any questions you have!